As the world embraces digital transformation, online learning has gained significant popularity in Romania. In 2023, several online course topics emerged as the most sought-after among Romanian learners. In this article, we explore the top five online course topics that are capturing the attention and interest of people in Romania.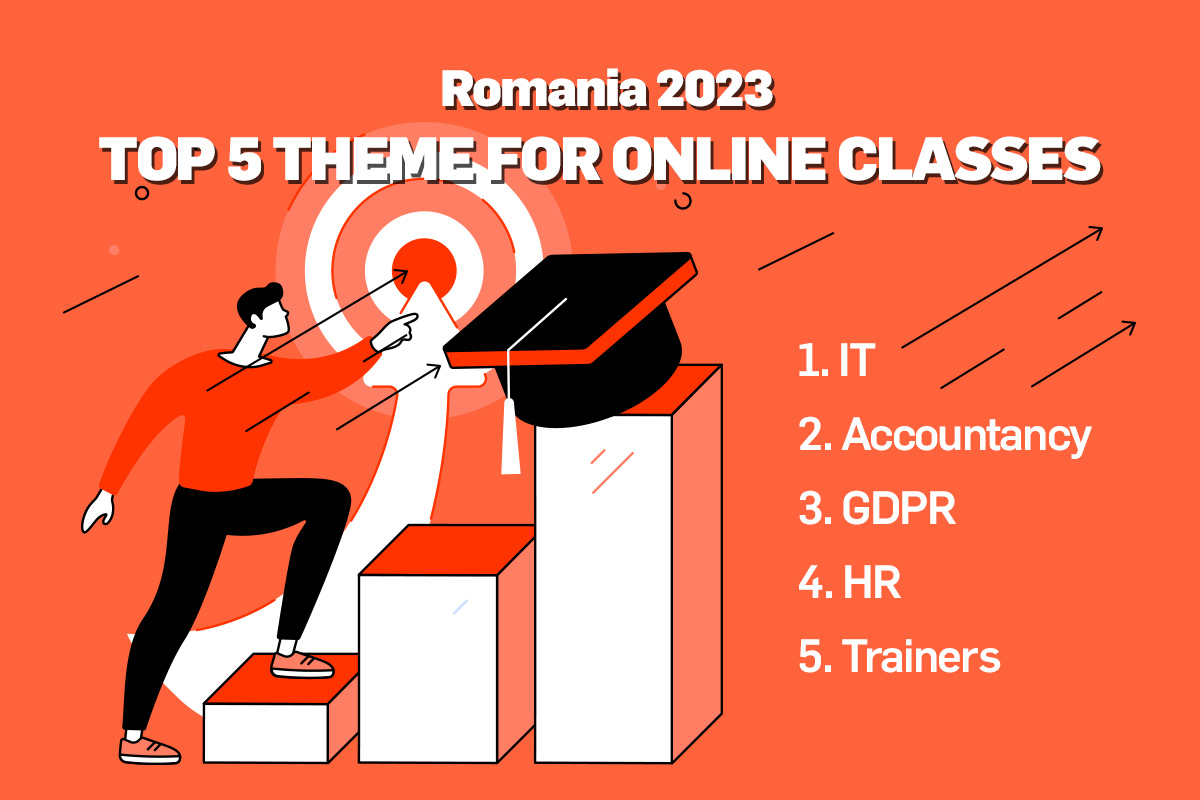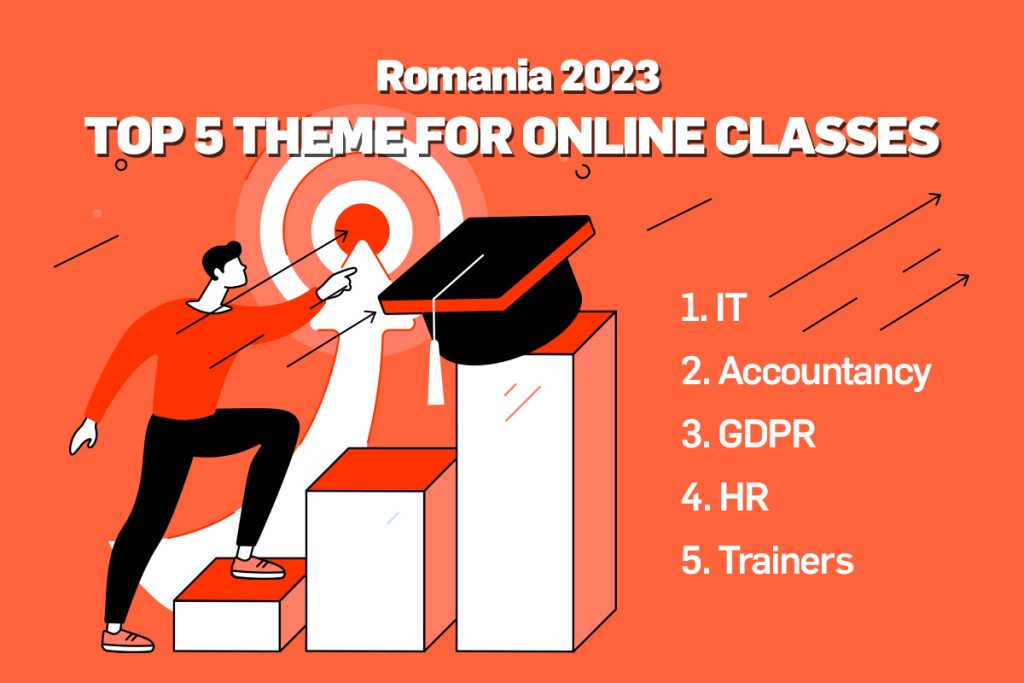 5th place: Online courses for trainers
Given the increasing focus on professional development and lifelong learning, online trainers' courses are gaining popularity in Romania. These courses equip individuals with the skills to design and deliver effective training programs, whether in corporate contexts, educational institutions, or personal coaching. Online trainer courses cover instructional design, adult learning principles, facilitation skills, and evaluation methods, enabling learners to become competent and confident trainers.
4th place: Online HR courses
Human resources (HR) play a vital role in every organization, and people in Romania recognize the value of HR knowledge and skills. Online HR courses cover a wide range of topics, including recruitment and selection, performance management, employee relations and HR strategies. These courses allow HR professionals and individuals interested in the field to stay up to date with the latest trends and best practices in HR management.
3rd place: GDPR online courses
The General Data Protection Regulation (GDPR) has had a profound impact on businesses and organizations around the world. To comply with GDPR regulations, professionals and organizations in Romania are looking for online courses that provide in-depth knowledge about data protection, privacy laws and compliance requirements. GDPR online courses provide learners with the understanding and expertise needed to navigate the complexities of data protection in the digital age.
2nd place: Online accounting courses
Accounting has always been in high demand, and online accounting courses attract a significant number of learners in Romania. These courses cover various topics such as financial accounting, managerial accounting, taxation, and auditing. Whether individuals are looking to improve their career prospects or gain a better understanding of financial management for personal reasons, online accounting courses provide the knowledge and skills needed.
1st place: Online IT courses
With the rapid growth of the IT industry, online IT courses have become extremely popular in Romania. From programming languages and web development to cyber security and data science, learners are eager to acquire the skills needed to excel in the digital age. These courses offer flexibility, convenience, and up-to-date knowledge, making them highly sought-after by both IT professionals and individuals looking to enter the industry.
In Romania, the demand for online courses is booming, with learners looking to acquire skills and knowledge in various fields. The top five most popular online course topics for 2023 in Romania include IT courses, accounting courses, GDPR courses, HR courses and trainer courses. These courses meet the evolving needs of professionals and individuals who want to continuously learn and develop professionally. Embracing online education and these trending course topics can lead to exciting career opportunities and personal development in Romania's ever-changing landscape.
Get access to an extensive library of online courses covering a wide range of topics. mindclass platform offers a diverse selection of high-quality courses. Tailor the employee learning experience to align with your organization's goals and employee development needs.