In today's fast-paced, time-critical world, traditional learning methods often struggle to keep up with increasingly demanding schedules. However, there is one solution that has gained significant traction in recent years, that of microlearning. The microlearning method has emerged as a game-changer in the learning and development segment and has revolutionized the way you can acquire knowledge and skills by breaking down complex concepts into small, easy-to-go modules. In this article, we will delve deeper into the microlearning method by exploring its benefits and understanding how it can enable employees and students to achieve the best results through consistent learning and development.
What is the microlearning method?
Microlearning is an approach to learning that focuses on delivering information in small, targeted units. Rather than overwhelming learners with extensive lectures or lengthy training sessions, microlearning presents information in bite-sized modules that can be followed in a much quicker and more accessible way. These modules are usually designed to be engaging, interactive and easy to access on various devices such as smartphones, tablets, or laptops. By providing short bursts of focused content, the microlearning method allows learners to absorb the information much more effectively.
Benefits of the microlearning method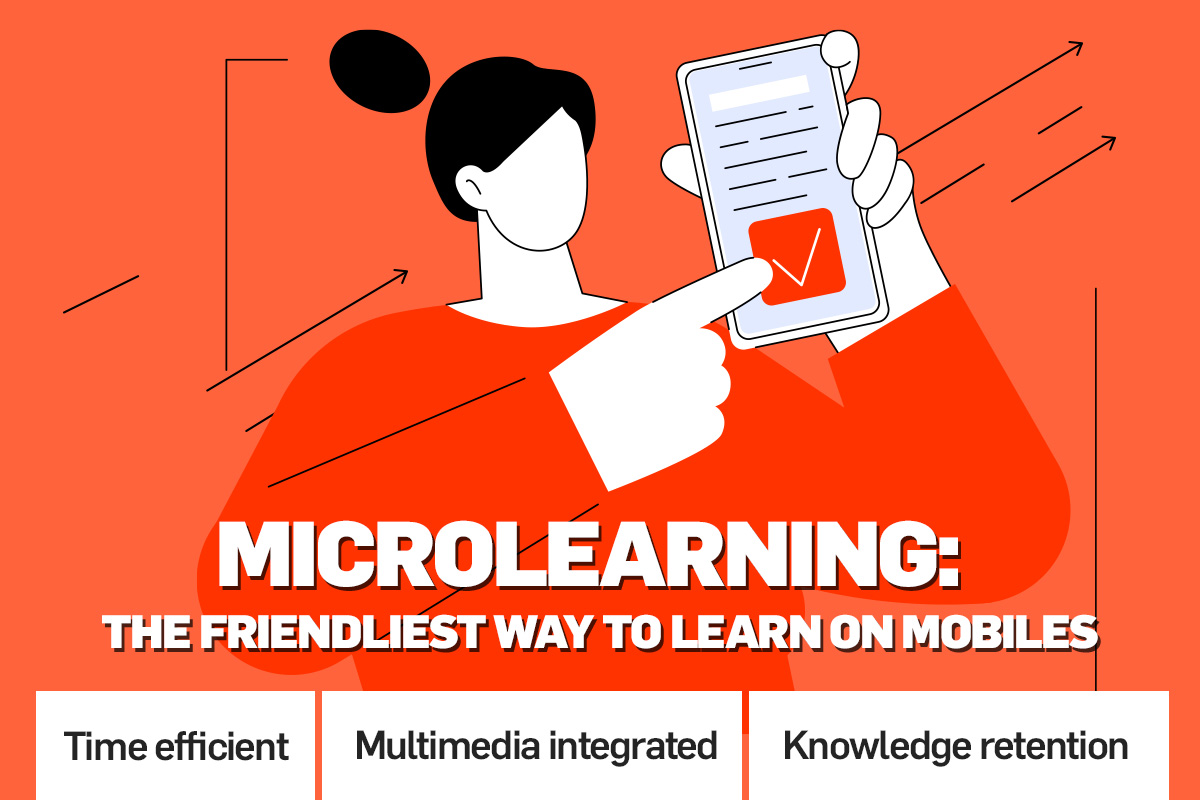 Increased retention and engagement
One of the key benefits of the microlearning method is its ability to improve information retention. Research has shown that learners are more likely to retain and apply knowledge when it is presented in concise, easy-to-understand formats. By breaking down complex topics into smaller modules, microlearning enables learners to better grasp concepts and reinforces their understanding through frequent repetition. In addition, the interactive nature of microlearning, which often includes tests, assessments, and game elements, keeps learners engaged and motivated, enhancing their overall learning experience.
Flexibility and accessibility
Microlearning offers great flexibility and accessibility, making it ideal for busy employees and students. Unlike traditional learning methods that require a dedicated block of time, microlearning modules can be accessed anytime, anywhere and at the learner's own pace. This flexibility allows individuals to integrate learning into their existing programs, enabling them to acquire knowledge and skills without interrupting their professional or personal commitments. In addition, the accessibility of microlearning on various devices ensures that learners can access content whenever and wherever it is convenient for them.
Targeted and personalized learning
With the microlearning method, learners could focus on specific topics or skills that align with their interests and learning objectives. Microlearning modules can be tailored to meet specific learning needs, providing targeted and personalized content. This level of customization allows individuals to optimize their learning experience by selecting modules that are most relevant to their professional or academic aspirations. By catering to individual preferences and requirements, microlearning enables learners to take control of their own developmental journey.
Enhancing the e-learning process with mindclass
To fully embrace the power of microlearning, learners can turn to an e-learning platform such as mindclass. Through mindclass, employees and learners can achieve the best results through an interactive continuous development process. Our platform provides an online portal and course library for professionals in any field of work and students in educational institutions. Moreover, mindclass allows access to multiple learning models, including learning paths, virtual classrooms, assessments, and certifications.
By harnessing the power of an e-learning platform and taking a microlearning approach, learners can unlock their learning potential and embark on a journey of continuous growth and development.