Investing in the ongoing development and growth of employees is critical to the long-term success of any organization. Recognizing the important significance of a lifelong learning pathway, many companies are now adopting educational pathways as a strategic approach to boost talent, hone employees and drive innovation within the workforce. In this article, we explore what an educational pathway entails for corporate employees and how it can benefit both employees and the organization.
Defining an educational pathway
An employee learning pathway is a structured framework that presents a series of learning opportunities and developmental steps designed to improve employees' knowledge, skills, and capabilities within their field of work. It provides a clear pathway for employees to acquire new skills, advance their careers and contribute more effectively to the organization's goals.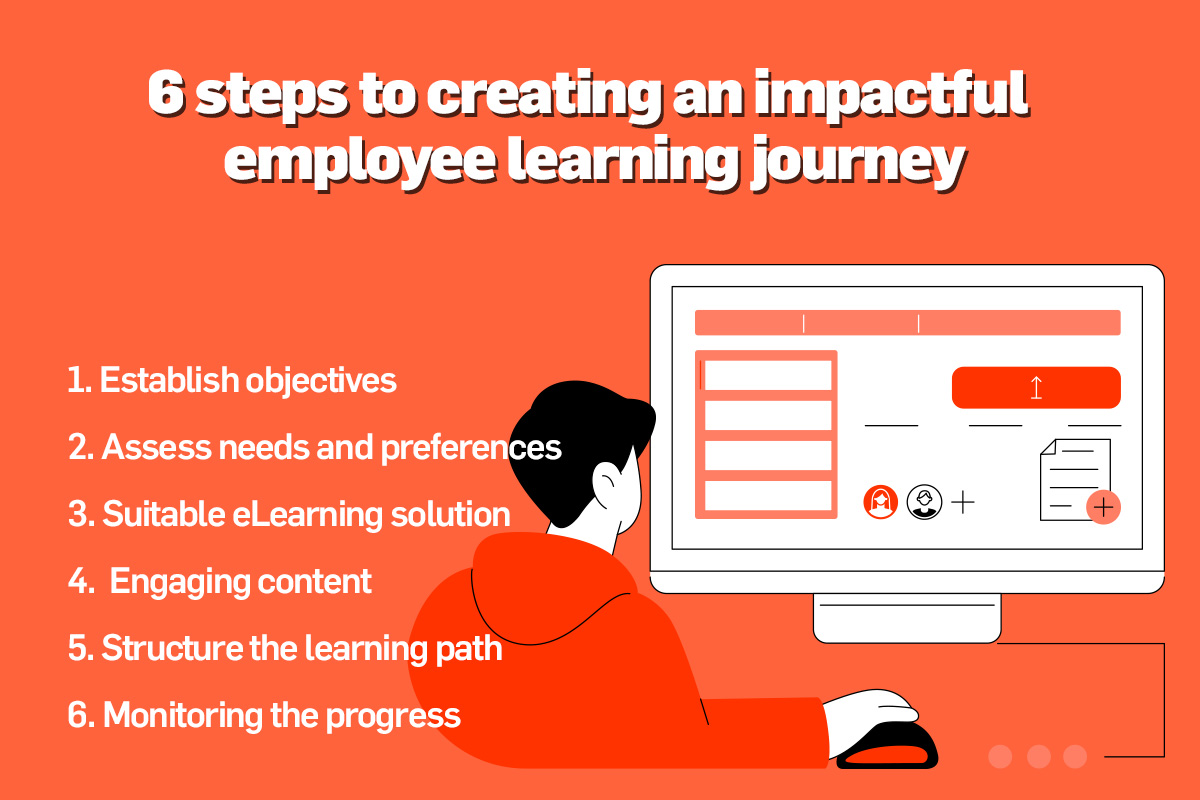 Step 1: Set clear learning objectives for the learning pathway
Any organization can start the journey by defining clear learning objectives that align with the organization's goals and employees' development needs. By identifying specific skills, knowledge, or behaviors that employees should acquire or improve through the learning journey. Well-defined learning objectives will serve as a guide throughout the development process and help measure the effectiveness of the learning pathway.
Step 2: Assess employees' learning needs and preferences
Conducting a thorough assessment of employees' learning needs and preferences facilitates the creation of a learning pathway that resonates with their desires. Surveys, focus groups, or interviews can be used to conduct this assessment to obtain information about their existing knowledge, preferred learning styles, and technology skills. This information will help the organization tailor the learning pathway to the unique requirements of employees, ensuring maximum engagement and knowledge retention.
2nd place: Online accounting courses
Accounting has always been in high demand, and online accounting courses attract a significant number of learners in Romania. These courses cover various topics such as financial accounting, managerial accounting, taxation, and auditing. Whether individuals are looking to improve their career prospects or gain a better understanding of financial management for personal reasons, online accounting courses provide the knowledge and skills needed.
Step 3: Choose a suitable eLearning solution
Choosing an eLearning tool that aligns with your organization's learning objectives can streamline costs and time. It is important to consider factors such as content creation capabilities, assessment tools, multimedia support, and compatibility with different devices and platforms to ensure the most complete package for future learners.
Step 4: Create engaging content
Content developed for the eLearning platform must effectively deliver the desired learning outcomes. It is recommended that educational materials contain a combination of multimedia elements such as videos, interactive modules, quizzes, case studies, and game activities to create an engaging and interactive learning experience. When choosing your eLearning solution, you should also consider the ability of the platform to provide these functionalities.
Step 4: Structure the learning pathway
The eLearning content should be organized in a logical and progressive learning path. Sequences and flow of modules or topics should be followed to ensure a smooth transition from basic to more advanced concepts. Consideration should also be given to incorporating pre-assessments to personalize the learning track and allow employees to skip content they already know well. Breaking down content into manageable modules or microlearning units will promote better knowledge retention and accommodate flexible learning schedules.
Step 6: Monitoring progress and evaluating the effectiveness of the learning pathway
Tracking and reporting mechanisms help you to monitor employees' progress throughout the learning process. Learning analytics is important to collect data on completion rates, assessment scores, and engagement levels. Ongoing evaluation ensures the effectiveness of the learning process by collecting feedback from employees. The data collected can be used to make the necessary adjustments and improvements to ensure continuous learning and development.
Designing a successful learning path through e-learning solutions requires careful planning, learner-centered design, and continuous evaluation. By following these steps, any organization can create an engaging and impactful learning experience that fosters knowledge acquisition, skill development, and professional growth.
mindclass allows you to create personalized learning paths by selecting specific courses and arranging them in a logical sequence. Transform the way your employees improve by learning. Request a mindclass demo and benefit from online training, monitoring, and assessment to the highest standards directly from the platform!